Living in Honolulu over the past two decades, we have seen a lot of changes. Instagram and social media have had a drastic impact Hawaii. Places that were once only frequented by locals are now filled with visitors. There are still a few places off the beaten tourist track that we would like to share. These are places that we would go to enjoy and see some of the best places in Hawaii. Some of our top recommendations include taking a stroll along Makapu'u Beach, exploring the gorgeous Lyon Arboretum, and watching OC16.
Overcrowding in Hawaii's off the beaten track destinations
It is critical that we discuss the how damaging over tourism has been in Hawaii.
In recent years, there has been a significant increase in tourism to Hawaii, particularly to the island of Oahu. This influx of tourists has led to overcrowding at some of the best spots on the island, putting strain on local communities and degrading the quality of these beloved spots.
Some people argue that increased tourism is good for local businesses and economies, as it brings more jobs and revenue to the region. However, many locals believe that too much attention from tourists can have negative effects as well. For example, overcrowding has lead to congestion and traffic jams at popular tourist destinations like Waikiki Beach or Diamond Head State Monument. Additionally, rising property costs have forced many longtime residents out of their homes in favor of luxury vacation rentals and high-end hotels, further changing the character of the island.
Please take a moment to read our Pono Pledge before your visit. By doing so, you will have a greater understanding of how to show respect while you are here.
Magic Island Walking Path
If you're looking to get a taste of the real Honolulu, Magic Island at Ala Moana beach park is the place to be. You'll see a wide variety of people walking the path, but mostly elderly folks. It's a great way to explore the diversity that makes up the city and state.
Hawaii's history is one of rich diversity. It has Austronesian roots but many cultures that have come to call it home over the years. This diversity is evident in almost every aspect of life in Hawaii, from the food we eat to the pidgin language spoken. At Magic Island you will see people of Filipino, Korean, Japanese and Portuguese decent that make up the rich tapestry of the Islands.
The ethnicities of Hawaii
The Filipino and Japanese communities are two of the largest in Hawaii. The community has a long and rich history in Hawaii, with many members having arrived in the 1800s as laborers working on sugar plantations.
The Japanese community also has a long history in Hawaii, dating back to the early 1800s when many immigrants began arriving to work on sugar plantations. However, the Japanese community experienced a significant decline after Pearl Harbor was bombed in 1941. Many Japanese-Americans were arrested and sent to internment camps, and many businesses and homes were destroyed or confiscated.
Hawaii is home to a large Portuguese community, which is evident in the many Portuguese-owned businesses throughout the state. The Portuguese first began arriving in Hawaii in the early 1800s, and their community has continued to grow over the years.
Walk a couple of laps around Magic Island for exercise but stay for the cultural immersion. Enjoy this Off the beaten track place in Hawaii!
Lyon Arboretum
Lyon Arboretum is one of the best places to escape the summer heat in Honolulu – it's a bit wet in winter. Since the pandemic, reservations have been required and it has really helped with managing tourism. If you are visiting the arboretum, tell the traffic guard so you can avoid the long line for Manoa falls.
The Lyon Arboretum was founded in 1918 by Dr. William H. Lyon, who was a professor at the University of Hawaii at the time. Dr. Lyon was interested in horticulture and botany, and he believed that the people of Hawaii should have access to a place where they could study and learn about plants and their ecology.
The arboretum was originally located on the campus of the University of Hawaii, but it later moved to its current location in Manoa Valley. The arboretum is home to over 2,500 different types of plants, including tropical trees, flowers, and shrubs.
Visitors to the Lyon Arboretum can learn about the history and ecology of plants, as well as participate in educational programs and workshops. There is also a gift shop on site where visitors can purchase souvenirs and gifts.
OC16
If you're looking for a truly local experience in Honolulu, look no further than OC16. This local television station is the go-to place for everything that's happening around town, from sporting events and concerts to arts and crafts fairs and comedy shows.
OC16 first launched back in 1974. Since then, it has become the home of local sports coverage, airing all sorts of different games and matches throughout the year. Beyond sports, OC16 also plays host to a wide range of other programs and events, including news and talk shows, music festivals, and even cooking demonstrations.
Ala Moana
Definitely not off the beaten track in Hawaii but no visit to Hawaii is complete without a visit to Ala Moana. Located in the heart of Honolulu, Ala Moana is a bustling shopping center with hundreds of stores and restaurants to explore.
Ala Moana has been a staple of the Honolulu shopping scene since its opening in 1959. Since then, it has gone through many different phases as new stores and restaurants open up, but one thing remains constant – Ala Moana is always a staple of the local community.
This is one of the best places in Honolulu to people watch. There are always lots of locals and tourists milling about, making this the perfect place experience authentic Hawaiian culture. Plus, one of the best place to eat in Honolulu, Curry House Coco Ichibanya in Honolulu is located downstairs. If you're staying at the Hyatt Regency Resort and Spa in Waikiki, Uber will get you to Ala Moana in just a few minutes.
Bishop Museum
As of the writing of this article this is where my wife works, albeit remotely.
The Bishop Museum is a must-visit for anyone who wants to learn more about the history and culture of Hawaii. Located in Honolulu, the Bishop Museum is home to a variety of exhibits and interactive displays that tell the story of Hawaii and its people.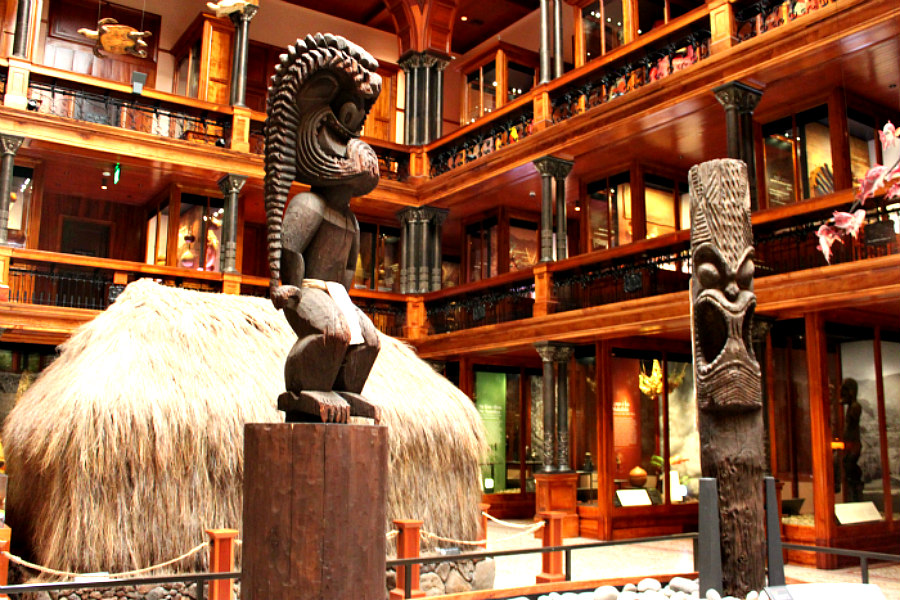 Some of the highlights of the Bishop Museum include the Hawaiian Hall, which features a large collection of artifacts from Hawaii's past, and the Science Adventure Center, which offers visitors a chance to explore the natural world of Hawaii.
The Bishop Museum is open every day (closed on Thanksgiving and Christmas Day) from 9:00 a.m. to 5:00 p.m., making it the perfect place to spend a few hours when you're in Honolulu. Be sure to check out their website for more information about what's on offer. Especially popular with locals is the Museum After Hours program, which takes place on second Friday of each month and offers live music and entertainment in addition to the museum exhibits.
Sandys and Makapu'u Beachs
Although Hawaii is home to many gorgeous beaches, locals often opt for more secluded shores. However, in recent years even these hidden spots have begun to fill with tourists. If you're determined to visit one of these increasingly crowded sites, keep the following dangers in mind: heavy waves and strong undertows make swimming incredibly dangerous–every year tourists drown because they underestimate the power of these currents. So please stay on shore and enjoy the view from a distance.
Sandys beach is the perfect spot to watch local body surfers catch some waves. The giant waves during certain months of the year create ideal conditions for surfing, so find a spot well away from the surf and enjoy the show.
Makapu'u is one of the best beaches in Hawaii to take in all the natural beauty. Be sure to practice safety first, and then enjoy your time at the beach!
Conclusion
Honolulu is a city that is constantly changing. This guide provides a list of places that are still less traveled, but retain the same beauty and charm as Honolulu's more popular spots. Whether you're looking for a place to relax or somewhere to learn about Hawaii's history and culture, these places should be at the top of your list.